A LEGACY FOR GEORGE ALEXANDER GRATTON
George Alexander Gratton was born in St Vincent and the Grenadines in July 1808 on a sugarcane plantation owned by William Alexander. His parents were enslaved and worked on the plantation believed to be overseen by Richard Gratton. Like other enslaved Africans, he was likely to have been named after the sugar plantations' owner or overseer, a common practice at the time that identified enslaved people as the property of their owners. Gratton would eventually give George his last name when he was baptised in July 1810 in Newington Church, Surrey, listed as the illegitimate child of Richard and Catherine Gratton.
George was born with a skin pigmentation condition referred to as 'piebaldism', a term known to also describe a pigmentation condition in animals. The skin disorder causes discolouration in skin pigmentation leading to extreme white patches developing on the skin and hair. These patches could well have been exaggerated in the paintings and sketches of George, where in one, by Daniel Orme, he was compared to a Dalmatian dog.
Many conflicting stories about George can be found online. These stories have been retold and rewritten by many people, all captivated by this sad story of an enslaved African child taken from his homeland and bought to England to be used and displayed as a human curiosity. The exact circumstances under which or how George arrived into Britain are unknown.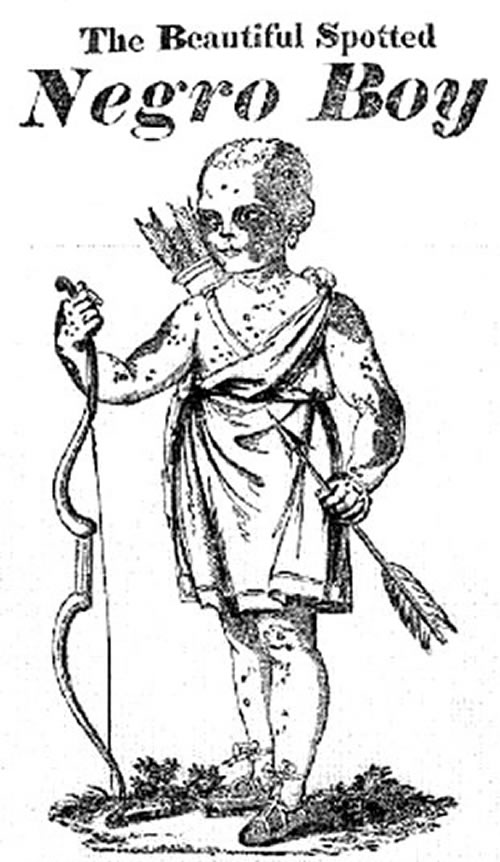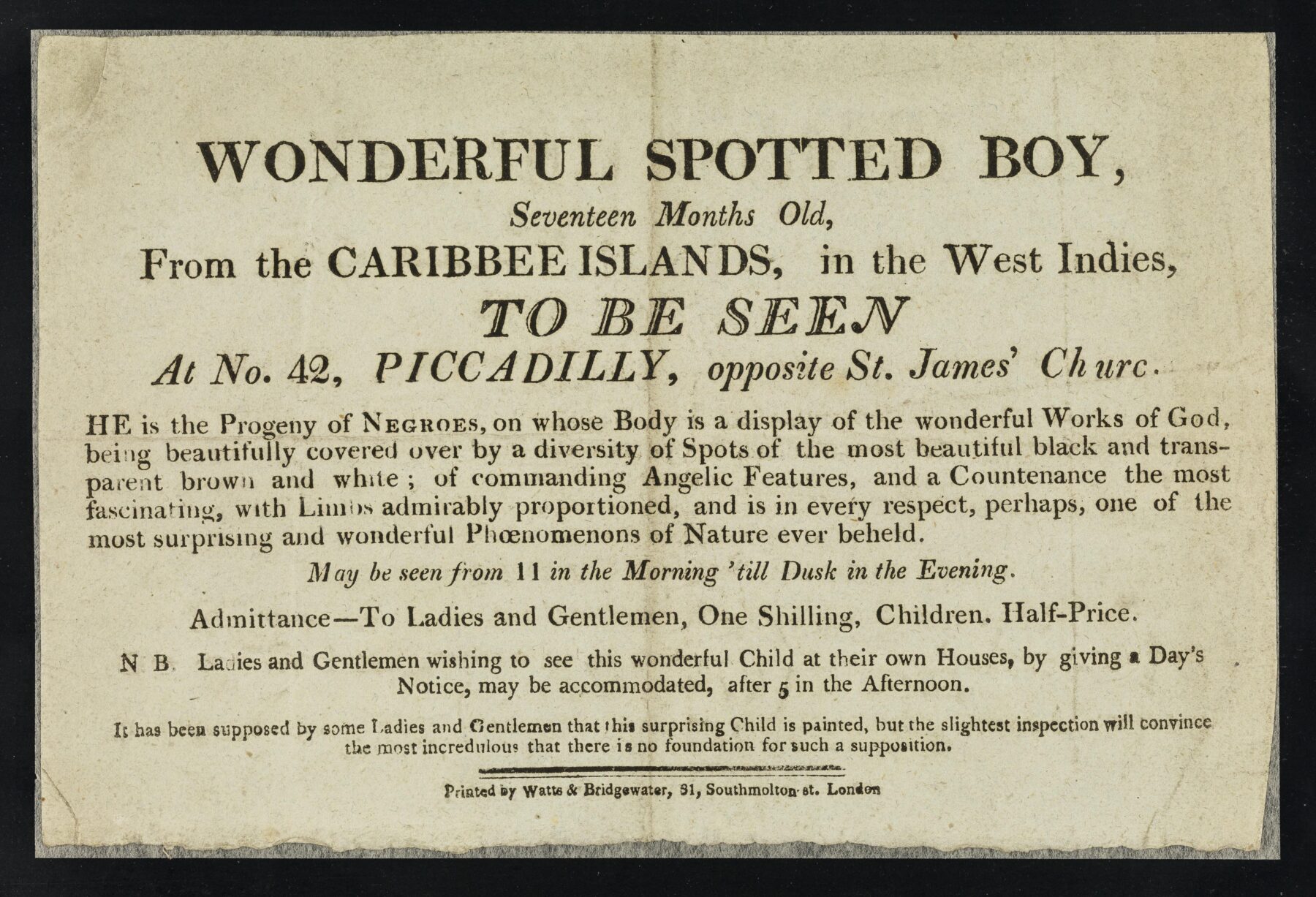 Limited evidence, including documented reports, suggest the following...
George became part of Richardson's shows, being displayed at great profit during the intervals of plays and other entertainments as 'the Wonderful Spotted Boy', 'the Beautiful Spotted Boy', 'an Extraordinary Spotted Boy', the 'Spotted Negro of Renown' or as 'a Live Curiosity Piece'. One such show was Bartholomew's Fair in London which the National Archives website describes as 'a focus for the fascination in the 18th and 19th centuries with prodigies of nature, such as bearded women, living skeletons, seal boys, fairy children, and the like'. George was a visitor to Marlow with John Richardson and would have mot likely been displayed at the Marlow Fair according to Marlovian Francis Gunnel.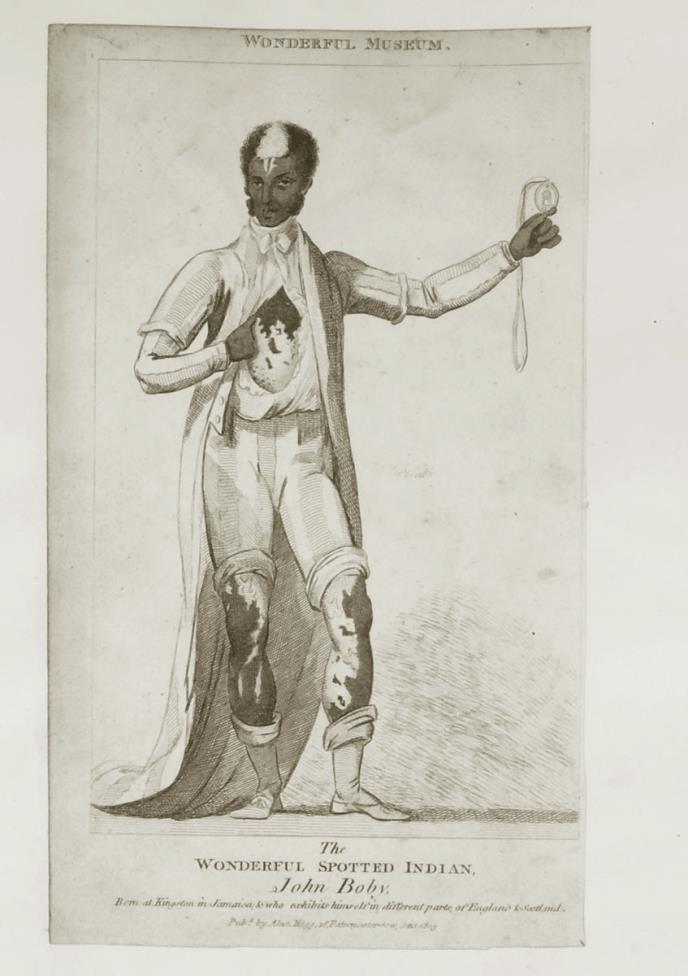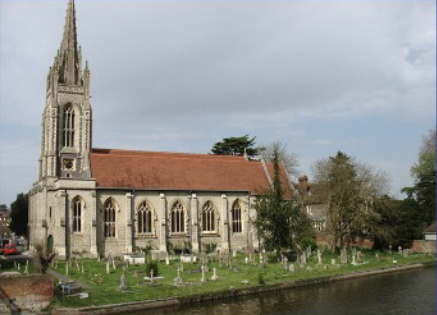 George arrived at Bristol port in 1809 aged 15 months when he was allegedly initially placed in the care of famous showman John Richardson for three years. Richardson apparently paid 1,000 guineas for George which was viewed as a fortune at that time This was not the first time enslaved Africans had been displayed at shows.  John Bobey, born in Kingston, Jamaica was brought to the UK as a child by Liverpool merchant, Mr Blundell. He was subsequently baptised John Richardson Primrose Bobey and later bought and exhibited at fairs by a showman Mr Clarke. Described as 'The Wonderful Spotted Indian', he was presented to the Royal Family in Windsor amongst others.
George's popularity was such that he was frequently booked by the wealthy for private viewings in their homes. Consequently, he was often on display for twelve hours daily which is likely to have affected his health. George died on the 3rd February 1813 at the age of 4 years and 9 months of 'a gathering about the jaw'.
According to historical accounts, Richardson kept George's body unburied for three months for fear of it being stolen. George was eventually buried in a customised brick vault with a lavish funeral on 12th April 1813 in All Saints Church Marlow, the home town of John Richardson. There was however no sign of such a brick vault during the recent conservation assessment. Richardson had the epitaph seen below inscripted on George's headstone. When he died in 1837, Richardson requested in his will that he be buried in the same vault as Gratton. Some accounts suggest this was a reflection of the affection he felt for George and 'parental kindness' he demonstrated. This notion is however in sharp contrast to the cruel way in which the young child was exploited.
TO THE MEMORY
OF
GEORGE ALEXANDER GRATTON,
THE SPOTTED NEGRO BOY
From the Caribbe Islands, in the West Indies
A Native of the Carribee Islands, in the West Indies.
Who departed this life February 3d, 1813,
Aged
four years and three quarters.
This Tomb, erected by his only Friend and 
Guardian,
Mr. John Richardson, of
\London.
Should this plain simple tomb attract thine eyes,
Stranger, as thoughtfully thou passest by,
Know that there lies beneath this humble stone,
A child of colour, haply not thine own.
His parents born of Afric's sun-burnt race,
Tho' black and white were blended in his face,
To Britain brought, which made his parents free,
And shew'd the world great Natur's prodigy.
Depriv'd of kindred that to him were dear,
He found a friendly Guardian's fost'ring care,
But, scarce had bloom'd, the fragrant flower fades,
And the lov'd infant finds an early grave,
To bury him his lov'd companions came,
And drop't choice flowers, and lis'd his early fame;
And some that lov'd him most, as if unblest,
Bedwe'd with tears the whice wreath on his breast.
But he is gone, and dwells in the abode,
Where some of every clime must joy in God!
July 1808

George Alexander Gratton born on a sugarcane plantation on the island of St Vincent and The Grenadines.

August 1809

Arrived in Bristol. It was reported that he was purchased for 1000 guineas by the travelling showman John Richardson, who exhibited him as an entertainment.

November 1809

Richard Gratton commissions portrait of George. Painted from life by Daniel Orme and engraved under his direction by his late pupil P R Cooper, London.

July 1810

George is baptised at Newington Church, Surrey.

November 1811

John Richardson commissions portrait of George. Painted by Coventry.

February 1813

George Alexander Gratton dies of 'gathering of the jaw' in Newington Surrey, aged 4 years and 9 months.

April 1813

George is buried in All Saints Church, Marlow, Buckinghamshire.